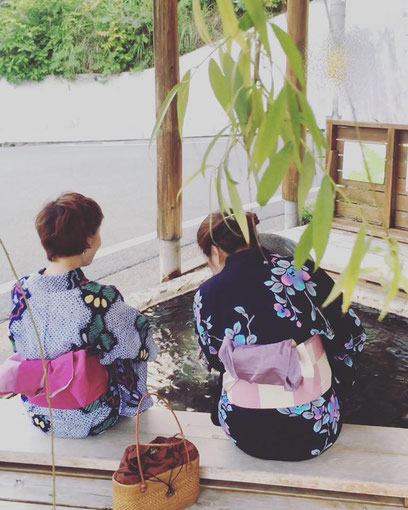 In the twilight, I met the beauties wearing "Yukata"(a casual summer kimono) and enjoying hot spring foot bath nearby Shirarahama beach.
From July.1st(Sun) to July.7th(Sat), "Tanabata Star Festival" is held around Shirarahama Beach area.
During this festival period, you can rental "Yukata" at "Shirahama Tourist Association", "SHIRAHAMA KEY TERRACE Hotel Seamore", and "Shirara-so Grand Hotel".
Why don't you try wearing Yukata and join "Tanabata Star Festival"?
足湯で浴衣美人♪ 白浜温泉街の柳橋足湯にて。
7月7日(土)まで、白浜温泉街にて「7★7(ななばた) Week in 南紀白浜」(浴衣で町歩きを楽しむ七夕イベント)を開催中です。
昼間はうだるような暑さですが、日が暮れると、海風が心地よく頰を撫でてゆきます。
この夏の素敵な想い出第一弾♪ お気に入りの浴衣を着て、または色浴衣をレンタルして、温泉街をそぞろ歩いてみませんか(*^^*)