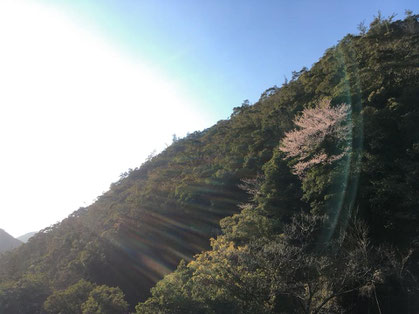 An early blooming wild cherry tree in Kumano area...it is not gorgeous like the rows of cherry trees, but it shines on the mountainside as if it is in the spotlight, and it always fascinates me.
In Japan, there are "Sakura" cherry blossoms forecasts just like weather forecasts in this season.
The cherry blossoms officially opened in Wakayama on Mar.25th, one day earlier than average.
If you are p
lanning to enjoy the cherry blossoms viewing, please check the updates on the online cherry blossoms forecasts!

😉



ちらほらと、桜の便りが届いてきていますね。


和歌山県では、平年より1日早い開花宣言が…暖かい日が

続けば、一気に花開きそうですね♪



今の時期、そこだけスポットライトが当たったように、山

の斜面に浮かび上がる野生の桜にハッと目を奪われます

。


桜並木のような華やかさはありませんが…人知れずそっと

咲く桜に、控えめな美しさと、芯の強さが感じられて好き

です。